Tips and Tricks to Testing Transformer Equipment
The Qualitrol Smart Transformer Breather
New! Universal Dehydrating Breather for Oil-filled Transformers and Load Tap Changer Conservators (LTC)
Qualitrol's newest Smart Transformer Breather removes moisture from the air entering oil-filled transformers and load tap changer conservators. This maintenance free dehydrating breather is automated to regenerate the silica gel desiccant at a user selectable time, relative humidity (RH) or PPM thresholds.
Regenerating the silica gel automatically eliminates the need to manually replace the desiccant, reducing maintenance costs over time. Alarms and digital communications allow for remote monitoring of moisture levels and breather status. No external cabling makes the new Qualitrol Smart Breather the most robust and reliable breather on the market.
Advantages of the Qualitrol STB Series Smart Breather:
First universal, maintenance free breather for both LTC and Main Tank applications
Standard 5 warranty on all smart breather models
c5M coating on all smart breather models
IP66 enclosure rating
Recommended for use on medium/large transformers
Single side mounted indication LED indicates quick and easy status
Reduce Substation Maintenance Costs and Increase the Life of Your Transformer in 5 Minutes!
In this video, we discuss the differences between traditional transformer breathers and smart breathers, in addition to taking a look at new features and technologies that make this new transformer smart breather necessary for any maintenance strategy.
Smart Breather Accuracy that Saves You Time & Money
Not all dehydrating breathers are created equal. There is now a smart breather that can trigger regeneration based on Part Per Million (PPM) of moisture. Why is this important?
PPM is the most direct measure of moisture content. It is no surprise that only dry breathers protect your tank. Accurately determining the moisture content of a breather's desiccant is critical to properly regenerating a dehydrating breather and keeping your asset continuously protected. Traditionally, regeneration was triggered on % Relative Humidity (%RH), a measure of how much moisture is currently in an air sample but that is heavily affected by temperature changes. This means that just the daily ambient temperature rise each morning will most commonly cause %RH to decrease despite the true moisture content remaining the same or increasing.
PPM measurement takes temperature out of the picture, leaving a simple direct measure of moisture, and ensuring that you have continuous protection for your asset and eliminating nuisance alarms caused by temperature changes. A more accurate measure of moisture means a more accurate regeneration schedule which ensures that you have a dry desiccant ready to absorb water.
As Seen in T&D World Magazine and Transformer Magazine
Qualitrol's Smart Breather has been featured in notable, industry trade publications. Seen as a leader in transformer monitoring for moisture removal, Qualitrol's STB Smart Transformer Breather is critical to your asset maintenance strategy. Feel free to check out the recent publication on T&D Magazine here or click below to download the hard copy of the article.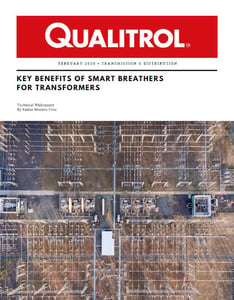 Universal Transformer Models & Special Applications for Substations in Harsh Environments
Qualitrol offers Smart Breather solutions made to handle even the harshest conditions, our special application models are engineered to last. A must if your substations or transformers are located:
Close to an ocean coastline
Near transportation infrastructure that uses salt during winter months
Offshore
In humid climates
In polar climates
Available in either 1kg or 2kg designs, the STB000 monitors the breathing pattern of the tank and switches between main tank and LTC operation automatically. Multiple mounting options are available for fitting to a new or retrofit installation. Internal cabling allows for easier installation and eliminates unintentional damage to cabling in the field. Desiccant regeneration is configurable by the end user based on % Relative Humidity (RH), Parts Per Million (PPM) or time frequency (days).